Man Utd react as new manager lift Dutch Cup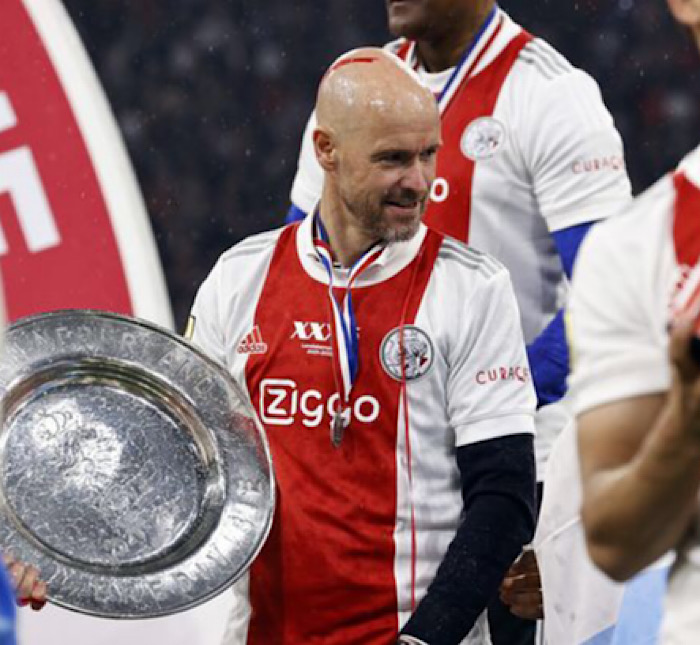 Manchester United have congratulated their permanent manager, Erik ten Hag, over his latest victory at Ajax in his near-five years reign.
This comes as Ajax won the Eredivisie title on Wednesday after defeating Heerenveen 5-0, making it the third league title Ten Hag would win.
Reacting, Manchester United via a statement on their official website, gave a breakdown of the Dutchman's achievements at Ajax and congratulated him.
"Our future manager Erik ten Hag won his third Eredivisie title with Ajax on Wednesday evening," United said.
"Ten Hag has a reputation as an attack-minded manager and that has certainly been evident with his side this term. Ajax have an impressive goal difference of 79, having scored 96 goals in the league so far.
"Perhaps even more impressive is the defensive resilience of Ten Hag's team. In 33 matches, Ajax have conceded a mere 17 goals, 15 fewer than the next nearest team.
"Off the back of the Dutchman's latest success, we look forward to welcoming Ten Hag to Old Trafford next season. Congratulations, Erik!"
Ten Hag is expected to arrive at Old Trafford at the end of the season where he is expected to create a turnaround at the club.