Champions League: Chelsea star not out for revenge against Luis Suarez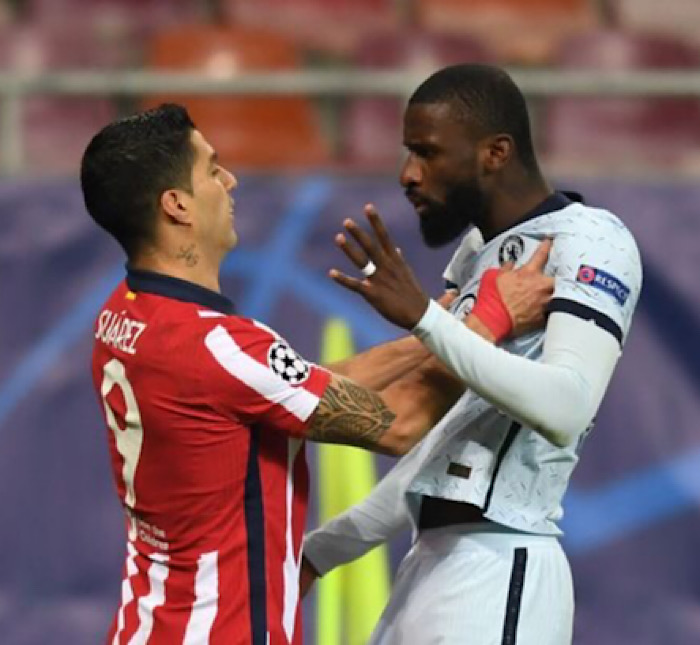 As Chelsea prepare to welcome Atletico Madrid in the second leg of their Champions League round of 16 clashes, Antonio Rudiger has insisted that he will not launch a revenge mission against Luis Suarez.
The blues put in an impressive performance in their first-leg clash with the Spanish giant by winning the match one-nil.
Rudiger and Suarez clashed during the blues 1-0 in Bucharest and things might not change when they go head to head at Stamford Bridge on Wednesday night.
However, Rudiger has insisted that he will not be distracted by Suarez's antics as he's not revenging whatever might have happened in the first leg.
Speaking ahead of the match, Rudiger stated that Suarez defends his patch and he also defends his patch, that's all that matters.
The former Roma defender stated that he's going into the match with no feeling of any pressure for revenge or anything like this adding that he's just focussed on the team targets and that is to win the game and get through because Atletico is not only Luis Suarez.
Suarez has been in a thrilling form with Atletico Madrid ever since he made the switch from Barcelona and his form have seen them become a favourite for the La Liga title.